1. General These are the general terms and conditions (hereafter "the Terms" of Vormats B.V. located at Prinseneiland 12D,1013 LR, Amsterdam, The Netherlands (hereinafter: "Vormats", "we" or "us"). Please carefully read the Terms before you start using the Services we provide.

2. Welcome to Vormats' application: an application allowing users to easily produce videos (hereinafter: "the Application"). The Application consists of an iOS or Android mobile software application available for download in the relevant app store, or a web-based software application that uses a web browser as a client available on the Vormats website located at www.vormats.com (hereinafter: "the Website"), and a cloud-based software service or a software-as-a-service. The Application, services, features, designs, software, or Website will be jointly referred to as the "Services".
3. Applicability The Terms apply to your use of the Services and any content available therein by any communication means (including but not limited to smartphones, tablets etc.).
4. Modifications The Terms may be updated, changed or modified from time to time by Vormats at its sole discretion. In such cases, the amendments will become effective immediately upon their initial posting on the Services. It remains your responsibility to access and check these Terms upon its posting. You agree to be bound by any of the changes made in the Terms. Continuing to use the Services will indicate your acceptance of the amended Terms. If you do not agree with any of the amended Terms, then you must refrain from any further use of the Services.
5. Services
a. Product.When using the Services you can – by using the Application or Website – create and produce a video (hereafter referred to as "Product").
b. Updates. As long as you use the Services, you consent to downloading and installing updates to the Services when made available, including automatically.
c. Free-of-charge Services. Some Services are granted to you free-of-charge provided that the Products produced via the Application bear Vormats watermark. Vormats may, however, at any time, start charging a fee for the use of the Services or any of its features or components. In such a case, Vormats will seek your consent to upgrade your Free Account into a Paid account. If you do not consent to such upgrade and the related fees and charges, Vormats may block your access to the Services and terminate your use.
d. Paid Services. You may turn your Account into a "Paid Account" for the fees as described on the Website (hereinafter: "Fees"). Vormats will automatically bill you from the date you convert to a Paid Account and on each periodic renewal until cancellation. Paid Services are available for a natural single person which directly receives the Paid Services of Vormats. Paid Services are also available when you are an employee or contractor of an organization with a business contract that results in Paid Accounts. Such organization authorizes its employees and contractors to use the Services.
6. Account
a. Before you can use the Services, you must register and create a personal account, whether this for Free-Of-Charge Services (Free Account) or Paid Services (Paid Account) (hereafter jointly referred to as "Account"). You are responsible for submitting accurate and truthful information and keep your information up-to-date. You must maintain your username and password in absolute confidentiality and refrain from disclosing them to others. Make sure that you change your password frequently and at least once every six months.
b. Your Account will remain in effect until it's cancelled or terminated under the Terms. You may cancel your Account at any time by contacting us in writing through e-mail.
c. You are responsible for maintaining the confidentiality of your Account login information and are fully responsible for all activities, including use or misuse, that occur under your Account. You agree to immediately notify Vormats of any unauthorized use, or suspected unauthorized use of your Account or any other breach of security. Vormats cannot and will not be liable for any loss or damage arising from your failure to comply with the above requirements.
d. When login in to third party service providers through the Application, such as your social networks' accounts, you are allowing Vormats access to some of your profile information, such as your photos/videos, music, email addresses and any other content available therein. We can only access the information that your social network operator (or any other third party service provider) makes available to us, according to your privacy settings on such service and the authorizations you granted us while completing the registration process. Only you can initiate and control the access to your third party service accounts and the actions engaged in them through the Application.
e. Paid Account.When you use certain features that qualify as Paid Services Vormats will charge you fees. The Services fees and payment terms shall be posted at the relevant pages or app store and will take effect immediately after being posted on the Website. If you terminate your Paid Account refunds are only issued if required by law. Vormats may, at any time and in its sole discretion, transform a Free-of-Charge Service into a Paid Service, and change any rates and payment terms.
If you fail to pay the fees charged Vormats may suspend you use of the Services.
8. Content
a. You are solely responsible for the use of content, such as photos, videos, music tracks, etc. (hereinafter: "Content") – available through the Services. You must process the Content with caution and discretion, since it might originate from third parties such as social networks' content and photos & videos databases. We do not guarantee Content's accuracy, adequacy, completeness, credibility, authenticity, validity, integrity or legality.
b. It shall be your own responsibility to ensure that any Content, Products, services or information available through the Website and through the Application meet your specific requirements and can be used by you.
9. Music
The Services may include optional music tracks for synchronization in the Product. If you choose to synchronize music into your Product, then you will have a nonexclusive license to reproduce, synchronize, publicly perform, and communicate to the public, the synched Product. You may not use the music or any other feature available through the Application for any other purposes besides in the Product.
10. Acceptable use of the Services
a. Subject to the Terms, you may access and use the Services for your personal and commercial purposes as set out in the Terms.
b. You agree to abide by all applicable local and international laws, regulations, rules and any usage guidelines that Vormats may convey from time to time. You further agree that you are solely responsible for all acts or omissions associated with your use of the Services and the access and use of the Services by anyone on your behalf.
c. You agree to not use, deliberately or not intentionally, the Services to upload, post, provide, transmit or otherwise make available through or to the Services any content that is: (a) fraudulent, misleading, or inaccurate; (b) breaches or violates or promotes the violation of other parties' intellectual property rights; (c) violates the privacy or other rights of any third party or otherwise violates or promotes the violation of the rights of any third party; (d) abusive, harassing, threatening, vulgar, violent, obscene, crude or otherwise offensive; (e) harming or attempting to harm minors in any way; (f) computer program, computer code or application infected with computer viruses, including hostile programs and/or malicious applications which may destroy or limit the use of any computer or telecommunications equipment; (g) in any way unlawful, harmful, threatening, abusive, harassing, or racially, ethnically or otherwise objectionable or that you do not have a right to make available under any law or contract or other relationship; (h) encouraging, assisting or advising in the committing of a criminal offense, under the applicable laws or is prohibited by any applicable law, including court restraining orders.
d. You are solely responsible for the content that you – or anyone on your behalf – upload, or otherwise make available through the Services.
e. Vormats may suspend or terminate your use of the Services or block your access to and use of the Services, without prior notice and at its sole discretion, if Vormats believe that you – or anyone on your behalf – are using the Services not in line with the Terms.
f. We respect the intellectual property of others and ask that you do too. We respond to notices of alleged copyright infringement if they comply with the law, and such notices should be reported using the account data as provided by you upon registering to the Services. We reserve the right to delete or disable content alleged to be infringing and terminate accounts of repeat infringers.
11. Intellectual property
a. All rights, title and interest in and to the Services, including patents, copyrights, trademarks, trade names, service marks, designs, media, trade secrets and other intellectual property rights, and any goodwill associated therewith, are owned by, or licensed to Vormats. Content provided to the you on or through the Services, including without limitation, text, photos, music tracks and other features, may be protected by copyright or other intellectual property rights and owned by Vormats or its third party licensors and may be used to create Products only through the Application. Any use of Content by you that is not authorized under these Terms are subject to all rights of the copyright owners of such Content.
b. You may not use in any way artworks, designs, trademarks, creations or any other works that might be considered as intellectual property infringement of third parties' rights. Vormats assumes no responsibility or liability caused or alleged to be caused by or in connection with your use of third parties' intellectual property rights. You expressly relieve Vormats from any and all liability arising from your use of any third-party artworks, designs, trademarks, creations or any other works. You further acknowledge and agree that Vormats shall not be responsible or liable, directly or indirectly, for any damage or loss caused or alleged to be caused by or in connection with your use of or reliance on any such artworks, designs, trademarks, creations or any other works.
c. Unless otherwise expressly permitted in the Terms, you may not copy, distribute, display, exploit, sublicense, decompile, disassemble, make available to the public, adapt, make commercial use, process, compile, translate, sell, lend, rent, reverse engineer, combine with other software, modify or create derivative works of any of the content on the Services, which is subject to Vormats' intellectual property rights or other proprietary rights, either by yourself or by a third party on your behalf, in any way or by any means without prior written authorization from Vormats.
d. You hereby grant Vormats the right to publicize the fact that you are a user of the Services.
12. Changes in the Services
a. Vormats may, but are not obligated to, maintain the Services with periodic releases of bug fixes, code updates or upgrades. Vormats will determine, at our sole discretion, the frequency and scope of such releases and you will have no plea, claim or demand against us or our staff, for any of these releases or the lack thereof. You agree that Vormats will not assume any responsibility with respect to, or in connection with the introduction of such changes or from any malfunctions or failures that may result therefrom.
b. Vormats may, at any time and without prior notice, change the layout, design, scope, features or availability of the Services. Such changes, by their nature, may cause inconvenience or even malfunctions. You agree that Vormats will not assume any responsibility with respect to, or in connection with the introduction of such changes or from any malfunctions or failures that may result therefrom.
13. Availability and support
a. We don't accept any responsibility or liability to you if the Services becomes temporarily unavailable due to technical issues, or issues beyond our control. Vormats does not warrant or guarantee that the Services will operate without disruption, errors or interruptions, or that it will be accessible, or available always, or immune from unauthorized access or error free. The availability and functionality of the Services depends on various factors and elements, including software, hardware and communication networks that are partially provided by third parties. These factors are not fault free.
b. You have sole responsibility for adequate protection and backup of data and/or equipment you use in connection with the Services. Vormats may store your Content and Products for a limited amount of time but it is your responsibility to download the Product immediately after it is created by you.
c. Support is not part of the standard Services. However, Vormats may offer technical support relating to the use of the Services from time to time upon request.
14. Privacy
Vormats respect your privacy. If you would like to know more about how we process your personal data please find and read our Privacy Policy is at https://Vormats.com/privacy-policy/
15. Indemnification
a. You agree to indemnify and hold Vormats (and its officers, employees, and agents) harmless, including costs and attorneys' fees, from any claim or demand made by any third party due to or arising out of (i) your use of the Services, (ii) your Products or Content, (iii) your interaction on the Website or through the Application, or (iv) your violation of this Agreement or any applicable laws Vormats reserves the right, at your expense, to assume the exclusive defense and control of any matter for which you are required to indemnify us and you agree to cooperate with our defense of these claims. You agree not to settle any matter without the prior written consent of Vormats. Vormats will use reasonable efforts to notify you of any such claim, action or proceeding upon becoming aware of it.
b. You agree, at your own expense, to defend, indemnify, and hold Vormats, its officers, directors and employees harmless from and against any claims, actions or demands, liabilities and settlements including without limitation, reasonable legal and accounting fees, resulting from or alleged to result from, your use of and access to the Services, or your violation of the Terms or your violation of any third party right.
16. Termination
a. Paid Services, and a Paid Account, can be terminated at any time but will continue for the period already paid fees for. You can stop using the Services at any time but this will not free you of paying the applicable fees for that period.
b. Free-of-Charge Services can be terminated at any time by you.
c. Vormats may decide to discontinue the Services in response to unforeseen circumstances beyond Vormats's control or to comply with a legal requirement. If we do so, we'll give you reasonable prior notice so that you can download your Products from our Website.
d. In addition to any remedies that may be available to Vormats under any applicable law, Vormats may temporarily or permanently deny, limit, suspend, or terminate your account, and take technical and legal measures to keep you off the Services, if Vormats determines, at its sole discretion that: (a) You have breached the Terms; or, (b) You have performed any act or omission that violates any applicable law, rules, or regulations; or, (c) You have performed any act or omission which is harmful or likely to be harmful to Vormats, or any other third party; or, (d) You deliberately submitted false information.
e. Vormats may, at any time, at its sole discretion, discontinue or terminate the operation of the Services, or any part thereof, temporarily or permanently, for all users, or for certain users, without any liability to you.
f. Upon termination of these Terms or your Account, for any reason Vormats reserve the right to delete all your information, Products, videos and data stored on its servers. Vormats will not be liable to you or to any third party for termination of access to the Services or for the deletion of your information, videos or data.
17. Disclaimer
a. The Services, and all other items made available by Vormats are provided on an "AS IS" and "AS AVAILABLE" basis without warranties of any kind, either express or implied. Vormats assumes no liability or responsibility for any (a) errors, mistakes or inaccuracies of Content, Products or information posted, transmitted or otherwise made available through the Services, (b) personal injury or property damage, of any nature whatsoever, resulting from use of the Services, (c) any interruption or cessation of transmission to or from the Services, or (d) the defamatory, offensive or illegal conduct of any third party not under Vormats' control.
b. Vormats makes no warranty or guaranty of any kind, whether express, implied, statutory, or otherwise, and each Party specifically disclaims all warranties, whether implied, express, or statutory, including any implied warranty of title, merchantability, fitness for a particular purpose, or non-infringement, to the maximum extent permitted by applicable law.
c. You agree and acknowledge that the use of the Services is entirely, or at the maximum permitted by the applicable law, at your own risk
18. Limitation of liability.
Vormats, including its officers, directors, shareholders, employees, sub-contractors and agents, shall not be liable for any damages in connection with any failure, error, or breakdown in the function of the Services, or from your reliance on content on the Services, or from any communication with theServices, on or through the Services; or damages resulting from its actions or its performance – or lack of performance – of its obligations under the Terms, except in the event of gross negligence or willful misconduct on Vormats' part. In any event, your sole remedy will be at Vormats' sole discretion and limited to correcting such errors in the Services, or malfunctions, in accordance with the relevant circumstances.
19. Governing law, jurisdiction.
The Terms are governed by, and construed in accordance with, the laws of The Netherlands and parties irrevocably submit to the exclusive jurisdiction of the courts of Amsterdam, The Netherlands.
20. Miscellaneous
a. No waiver, concession, extension, representation, alteration, addition or derogation from the Terms by Vormats, or pursuant to the Terms, will be effective unless consented to explicitly and executed in writing by Vormats' authorized representative. Failure on Vormats part to demand performance of any provision in the Terms shall not constitute a waiver of any of our rights under the Terms.
b. Any notice given under the Terms must be in writing and must be signed by the party or its agent giving the notice. A notice is taken to be received in the case of a notice sent by email, upon the receipt by the sender of a confirmation from the recipient or the recipient's email server that the email has been received by the recipient.
21. Contact us.
At any time, you may contact us with question, claim or complaint that you may have with respect to the Services, at: hello@vormats.com.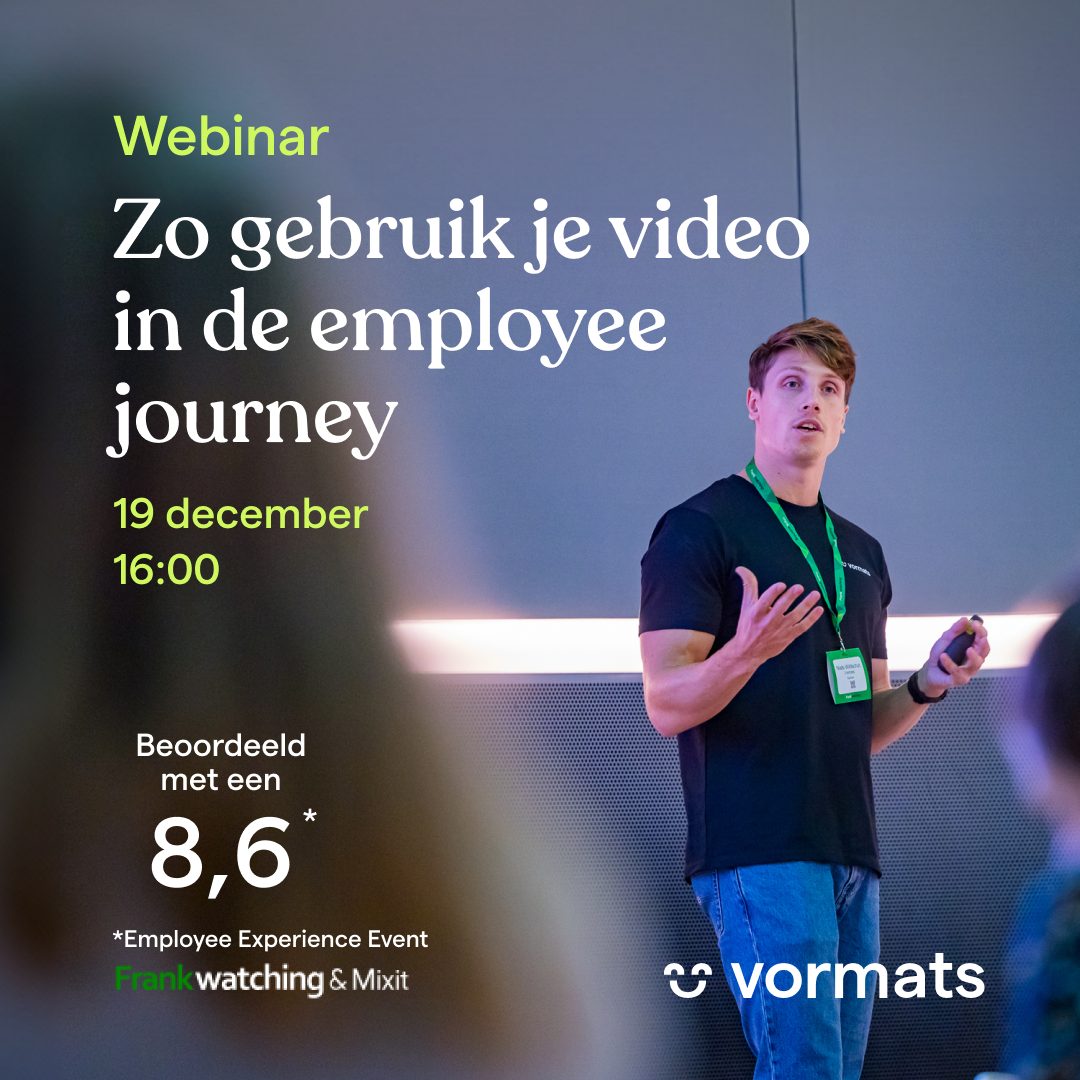 Don't miss out! Register now
Unlock the potential of video as the ideal alternative to personal contact and explore how you can leverage video for a successful employee journey.
Interesting for someone else?